Put on your shades. Pantone's colour of 2023 has been announced, and it's as bright as it is beautiful. 
Viva Magenta is a vibrant colour inspired by nature. It says, "Look at me. I am electric, expressive and not afraid to stand out." It's a shade that symbolises strength, optimism, and bravery – virtues we could all do with channelling as we welcome a new year and embark on a fresh start.
But who determines the colour of the clothing that hangs from our racks and adorns our favourite celebrities? Who gets to decide what's hot or not? Which paint colours are dated, and which are trending? Which lipstick shades to wipe clean or reapply?
In this case, it's the experts at the Pantone Colour Institute.
Summary
What is the Pantone Color Institute?
Why is it important to pay attention to trending colours?
Our top five ways to incorporate Viva Magenta into your product assortment
What is the Pantone Colour Institute?
Recognised and respected worldwide as the authority in colour expertise, Pantone has provided colour insights and solutions since the 1960s.
The Pantone Color Institute™ team forecasts global colour trends and advises brands when it comes to integrating colour into their brand identities and product development. Simply put, Pantone knows colour, which is why it's worth taking note of the colour they predict will take the following year by storm.
Why is it important to pay attention to trending colours?
We all have our favourite colours, but there's no denying that it feels good to be in fashion. As an independent retailer, it's less of a nice-to-have and more of a necessity. Your customers expect it from you and will look to you for guidance, so make sure you do your homework on the trends in your industry – colours included! 
To meet shoppers' expectations and keep up with competitors, ensure you have the year's hottest hue on your shelves. After all, if your customers can't find trending products in your store, they'll find them elsewhere. 
Below are some of our favourite magenta products to brighten up your shop shelves and your customers' lives.
Our top 5 ways to incorporate Viva Magenta into your product assortment
1. Zatchel satchel for out-and-about
Nothing beats a bright accessory, especially for neutral-loving minimalists needing a pop of colour. 
This classic satchel from UK brand Zatchel is hand-made in England using high-quality leather. It doesn't just stand out for its stunning magenta colour but its detailed cable stitching, nickel silver buckles and concealed magnetic fastenings.

2. Cosy slippers for around the house
Who says you can't look stylish when you're relaxing at home? Self-care includes a luxury pair of slippers, so stock your shelves with these comfortable felt mules made from 100% pure merino wool from the Tyrolean Alps. 
They're practical as well as cosy, with a non-slip, waterproof sole soaked in natural latex.

3. Stainless steel water bottle for healthier days
It's the start of a new year, and with it comes the opportunity to set goals and make resolutions. Whether they plan to hit the gym more regularly or simply stay hydrated, this stainless steel water bottle from Qwetch will ensure your customers form healthy habits in style. 
It's also watertight, light and compact, which makes it ideal for long runs and days out. 

4. Trendy accessories for the home
It's a nice idea to adapt your home decor to whatever's trending, but making radical changes – like repainting walls or buying new furniture – isn't sustainable. An excellent way for your customers to incorporate fashionable colours around the home is to feature accent accessories that can be rotated yearly or even seasonally.
Our favourite home decor products include this hand-poured, dip-dyed soy wax candle and this abstract acrylic painting by Canadian artist Susannah Bleasby, aptly named 'Magenta'.

5. Bold and bright cosmetics and jewellery for making a statement
One of the easiest ways for your customers to showcase the season's hottest colour is by wearing it. Everyone's taste differs, so we suggest stocking your shop with a variety of magenta make-up and jewellery – from bright quick-drying nail polish and geometric statement earrings to organic lip oil.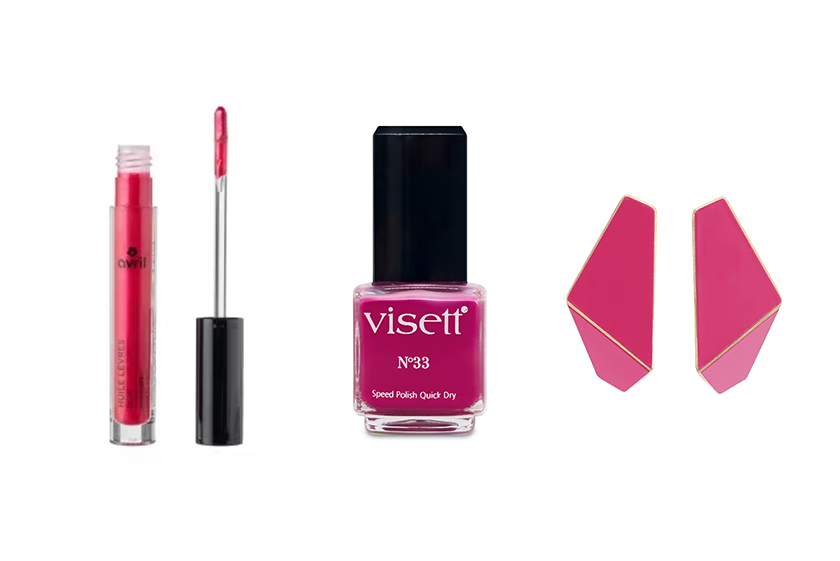 ---
Whether your customers want to make a bold statement or simply give a subtle nod to Pantone's colour of the year 2023, we're sure you'll find everything they need in Viva Magenta right here on Ankorstore.